It was 1977, and I was eleven years old. I was riding around with the car top down and the radio on with my older brother and his cool teenage friends when a song called 'Movin' Out' came blaring on the local AM station.  The song was by an artist I had never heard of before: Billy Joel.  I always wanted to be on the cutting edge just like my brother,  so I secretly decided that it was my time to raise my taste in music a notch or two on the coolness factor: I replaced Tony Orlando with Billy Joel as my musical hero.
I immediately joined the Columbia Record and Tape Club without my parent's permission.  With my limited income, I refused to wait until my birthday or Christmas to get a copy of Billy's album. For only 1¢, I carefully chose my four selections; ensuring that Billy's album was at the top of the list:
Billy Joel – The Stranger
Foreigner – Double Vision
Meat Loaf – Bat Out of Hell
Boston – Boston
When my cassette tapes finally arrived, my brother immediately confiscated all of them but left the Billy Joel tape behind. Because I knew that I would never get the others back without him pinning me down in a wrestling move, I settled with 'The Stranger' as the only cool music I owned.
I played it non-stop and quickly learned every word of every song.  I would sing along at the top of my lungs and I would do my best to mimic Billy's vocal style.  My Billy Joel man crush had begun.
When I first head 'Big Shot' on the radio the follow year, Billy's coolness factor went up another notch.  I begged my mom to buy Billy's '52nd Street' album for me when we were at the store. She refused.
To correct this problem, I joined Columbia Record and Tape club again.  I was surprised they let me because I never fulfilled my original obligation.  Nevertheless, I soon had '52nd Street' in my hands.  Just like before, I listened to the album non-stop front to back. I was in heaven.
It wasn't until 1980, when I was fourteen, that Billy Joel became the only person who truly understood my teenage angst.  That year, my favorite album (still) "Glass Houses' was released.  It was a different style for Billy, and it was obvious that every song was written just for me.  Each song and every lyric explained my life, my angst, and my deepest teenage troubles perfectly.
It was then that my entire life began to revolve around 'when is the next Billy Joel album going to come out'.  From 1982 through 1986, my life stopped in it's tracks to analyze each new release.  I learned every lyric. I scrutinized every song.  I got to know the man behind the music.  That's the time when MTV became popular, and I watched every Billy interview that I could.  I saw him in concert twice—once in 1984 and once in 1986.  I knew him. He was my friend and advocate.
I was married when his last two albums were released in 1989 and 1993.  I was exasperated with my daily life and, frankly, didn't have the time to invest my heart into his new albums.  I disappointed myself.  As a kid, Billy's music had become the fabric of my life, and now, I didn't give him the devotion I once promised.
Years passed, Billy retired from recording, and because of my guilt, I stopped seeing him in concert. Then I joined a Facebook group called 'Billy Joel Completely Retold'.  Instantly, my Billy Joel man crush was reborn!
At that time, I traveled for a living and made it a point to visit famous Billy album cover locations during my downtime.  Naturally, I had to do the same pose in the same spot as Billy.  I was more excited than when I was a teenager!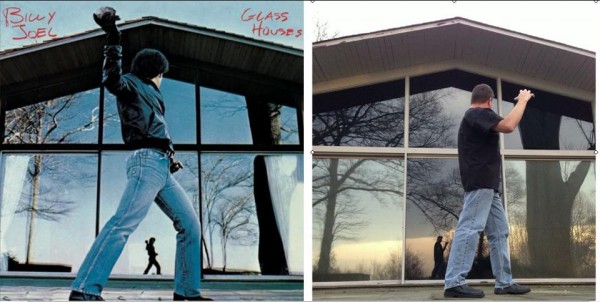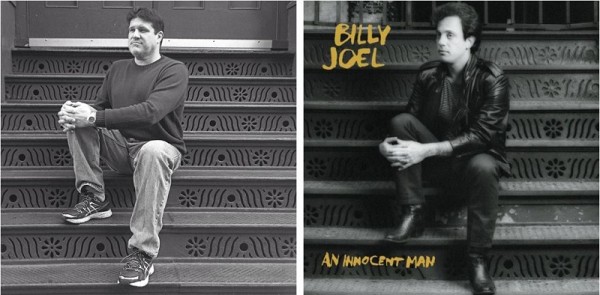 After doing the album cover shots, I made up my mind: I HAD to meet Billy in person, no matter what.  I was aware of his motorcycle shop in Long Island; Billy is known to occasionally mingle with fans on the weekend.  I happened to be in town for work, but as usual, my work got in the way.
So I thought hard and devised another plan.
This past week, concert tickets went on sale for Billy to perform on New Year's Eve at the Amway Center in Orlando. Orlando is my hometown.  Clearly, this would be my last chance to ever meet him in person.  First, I friended a member of his band on Facebook and point blank asked her what my chances were to get two minutes of time with Billy.  She simply answered, "not sure."
Next, I did a bit of digging and found the name, address, email and phone number of his publicist as well as her Facebook account.  I sent multiple messages and emails to her and even begged her for a meet and greet or a backstage pass. I tried hard to act like a regular, middle-aged guy and not a crazed fan.  No reply.
It looks as though I'll have to resort to the old-fashioned, fan-meet-celebrity techniques:  I'll wait at the airport for him to arrive. I'll investigate where his hotel may be, I'll wait before and after the show where the celebrities enter and exit the arena.  If I'm lucky, perhaps he will allow me 30 seconds to get a photo with him and an autograph.  God, I feel like I'm a crazed teenage fan again.
My wife is tired of hearing about Billy Joel.  She's tired of me playing his music. She's not a fan. In fact, she calls it all my 'Billy Joel man crush'.
I can't disagree; she's exactly right.
Photo: ©Dave Pasquel All Rights Reserved