FC Media NEW BOOK: The Year of Living Miraculously by Michele Landers
Feminine Collective Media is proud to welcome Michele Landers into the FC Publishing family.  Michele is a Board Certified Life Purpose Coach, Hypnotherapist and Professional Numerologist. She is a dynamic and gifted lecturer, teacher, author and consultant on the subjects of personal empowerment, spiritual wisdom, the law of attraction and numerology. Michele has been a recurring coach on Fox/ WFLX Eye on South Florida with Shannon Cake. Recognized and highly regarded as an authority in her field, her books, The Tao of Numbers and The Year of Living Miraculously, are informative and entertaining. Michele is a highly sought after radio, media personality and speaker who has taught hundreds of classes, speaking throughout the country.  She has assisted clients nationwide to gain clarity and direction in their lives and to discover their own unique talents.
We are honored to announce her first book with Feminine Collective: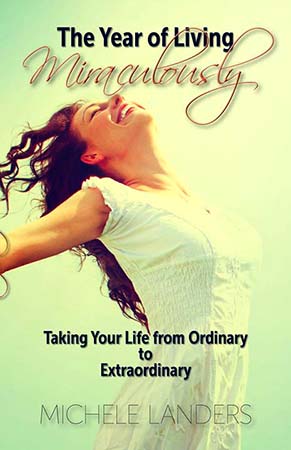 The Year of Living Miraculously chronicles the life of one woman's struggle of trying to make sense of the devastating effects of growing up in a dysfunctional alcoholic household.  At an early age and with a skewed perception on life, she ventured into the world on her own only to meet with the same traumatic relationships over and over again.
After years of searching for answers and meaning within the fields of addiction, psychology, neuroscience, spirituality and even quantum physics she transformed her beliefs and redesign her life into the one she deserved. There also came a startling discovery.  An eye-opening conversation with a well-known scientist revealed something she had suspected all along; we all have this incredible ability to co-create real miracles in our life, but it goes beyond the simple "ask, believe, receive" idea that many have been taught.
Written as both a personal narrative and reader workbook, The Year of Living Miraculously takes the reader on a personal and spiritual journey of self-discovery. Through eleven specific steps and exercises designed to take a deep dive into the subconscious and over the rocky terrain of our blocks and sabotaging beliefs, the reader will emerge with a new healthier understanding of their own powerful and unique self. Seeing their world through a new lens, readers learn how to tap into the quantum field of all possibilities and their inborn ability to co-create real miracles in their own life.
The Year of Living Miraculously is unique in that it not only takes the reader along on Michele's spiritual journey from victim to victorious, it also touches on an area that most Law of Attraction books rarely delve into: If all our thoughts co-create our reality, then why does a three-year-old get leukemia? Why would two children be the horrifying witnesses to their mother's brutal murder, or any other horrific and seemingly roulette wheel life tragedies? Michele Landers addresses these questions with thoughtfulness and her "wild card" theory and not a one size fits all explanation.