He Was A Man Of Few Words
I was in Target today and purposely ignored the huge display of Father's Day cards. These days they seem to appear right after Mother's Day with no break in between. I scurry past with my head down. Father's Day cards are lava. If I don't see them, I cannot step in them.
One of my earliest memories of my father was driving in our car home from a visit to my grandmother's house in Litchfield Park back to our home in Phoenix. Back in those days, before Interstate 10, we would take a then two-lane Indian School Road home. One night driving home, my father slowed the car and pulled over to the side of the road. No one but him had seen a car in the ditch alongside the road with its headlights on.
My father jumped out of the car, climbed down into the ditch, and pulled out a very shaken woman and her young daughter from their car. He put them in the back seat alongside my little brother and me who were about five and four at the time. No one really said anything, it was all very surreal, as if this happened all the time.
Eventually, we came to St. Joseph hospital where my father dropped the woman and her young daughter at the emergency room. Nothing more was said, and we drove home. I'm sure my parents had much to discuss after we went to bed, but it wasn't until years later that I realized that my father probably saved their lives.
He was always a man of few words who practiced kind actions.
After church on Sunday at St. Theresa, he could always be found with the other men at the St. Vincent de Paul truck gathering donations from parishioners. Interestingly, he didn't convert to Catholicism until years later. My mother used to say he was the most devout of all of us.
I grew up on a street on Phoenix called Avalon Drive. It was built after World War II and consisted of cookie cutter red brick homes which were basically all the same model. The houses were sold at nearly the same time to young marrieds starting new families. My mother estimates that at the time we were growing up, approximately 85 children were living on the street. We never lacked for friends or play, and most of us went to St. Theresa School.
One day, one of the fathers had an accident with his car and could not drive to his job for several months. My father walked down to their house, handed him his car keys and told him to use his car until his own was fixed. This dad was supporting 12 children, and my father figured the other man needed the car more than my he did. He then arranged to carpool to his own work during this time. It's just how my father did things. Quietly.
In a few weeks, I will be going to the 90th birthday party of this neighbor. I know this story will be told by him to me about my father.
He was always a man of few words who practiced kind actions.
Again, I avoid stepping into more lava at both Walmart and while picking up a prescription at Walgreens. Father's Day is a ubiquitous and sad reminder that I don't have one anymore.
I am the oldest of three children and the only daughter. Guess who was my father's favorite?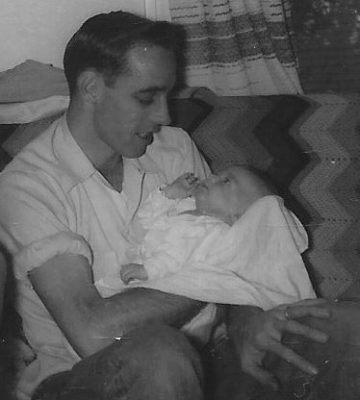 We had so many of our own traditions and jokes—many of them I've written about here on Feminine Collective.
Every night on my way home from work I would call him and tell him about my day. He never missed an opportunity to tell me he loved me and how proud he was of me. I would get these notes written on his infamous yellow-lined tablet paper periodically along with a few coupons for Pop-Tarts. I've never eaten a Pop-Tart in my life, but I could hear him in my mind, "If you go on Wednesdays, they'll double the coupon."
The last six months of his life I drove from California home to Arizona to help take care of him.
It was both a happy and bittersweet time. I was with him in the hospital the night he was moved to hospice for his last two weeks. My father's favorite time of year was August monsoon season. He just loved a good dust storm. That night the sky put on a show just for him. Lightening. Thunder. Rolling dust. I described every detail to him so he wouldn't miss a thing. When we arrived at hospice, the nurses had hung a sign over his bed saying, "Welcome Robert." He had me buy them flowers.
He was always a man of few words who practiced kind actions.
One of his wishes was a military burial at the National Cemetery in Phoenix. My brothers and I moved heaven and hell to make this happen. We had a short service beforehand, and I was elected to briefly speak. I had gone through some of his papers and found a note from the Phoenix-based national columnist Erma Bombeck. She thanked him for his note telling her how much he enjoyed her columns. Who knew? My father found housewife humor entertaining.
He was always a man of few words who practiced kind actions.
The people close to me know that I rarely cry. It's not that I don't have emotions, they just come out in different ways. The Navy went full out at my father's burial at Phoenix's National Cemetery. A bugle played Taps; there was a 21 gun salute, and a lot of marching. We were seated in front of my father's casket with the American flag neatly draped over it. I remember choosing the casket with my brothers. One of them argued for the low-end model, being as economical as my father was. He probably ate Pop-Tarts.
At the end of the ceremony, two soldiers folded the flag, snapping it into tight triangles until formed into the perfect red, white, and blue triangle. My brothers had arranged for them to walk over and hand it to me. Upon which decades of tears began to sob out of me. He was really gone.
He was always a man of few words who practiced kind actions.
And that's how I will always remember him. Happy Father's Day, Dad, I love you.
Photo Credit: foundin_a_attic Flickr via Compfight cc