ELECTION 2016: The 1st Presidential Debate; Her View
"I knew Jack Kennedy; Jack Kennedy was a friend of mine. Senator, you're no Jack Kennedy."
(Democratic Senator Lloyd Bentsen to Republican vice-presidential candidate Senator Dan Quayle, 1988)
A Little Background:
Yes, things can go horribly wrong at debates and become political folklore. During the very first presidential debate in 1960, it's often said that Nixon lost the election to Kennedy with his profuse sweating and shifty looks compared to Kennedy's poised, handsome calm. A few nights ago, I watched an old black and white newsreel of this on CNN and I almost (almost) felt badly for Tricky Dick.
Why do we even have presidential debates? Scholars have researched the impact of debates and their data has found that presidential debates rarely have shifted enough votes to decide the outcome of an election. Debates often occur long after voters have made their decision. For a long time, they were stoic events heavy on policy, with very few gotcha moments, and the only audience was the crew. After the 1960 debate, the next one wasn't until 1976.
And then along came television; bringing the candidates and debates into our living rooms.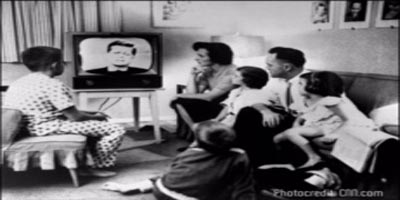 This year there are three presidential debates and one vice presidential debate scheduled. The dates are listed below. Because this has been a historically contentious battle between the two top candidates, likely a record number of viewers will be tuning in to watch the show. Circus. Debacle. I'm sure pundits will have many names for the debate the morning after. I do not believe Stoic will be among them.
HER VIEW:
When I watch the debates…
What I am looking for in the person who will be the leader of the free world, as well offering realistic, doable solutions to a multitude of our domestic problems, is someone who is aligned with six of my core values.
▪️Children and the health and education of our children are an investment in our future. They deserve early start educational programs. Funding should be allocated to support free tuition in public universities, colleges, and trade schools. Children under the age of 14 should have access to free health care. Children over 14 and their families should have access to affordable health care, including the current practice of coverage for children 27 and under living at home.
▪️I believe in science. My education, career, and personal research have convinced me that if we do not counter the current climate changes with programs such as energy conservation, wind power, and less reliance on fossil fuels as part of a global effort, we will leave our children a planet with serious climate problems and diminishing resources.
▪️Tax reform is a critical issue to me. I am appalled that there are millionaires paying less tax than the people who work for them. I believe the tax structure is an upside down pyramid. I am looking for a president who can effectively restructure the tax code. For example, people making more than $1 million per year would pay a tax rate of at least 30 percent. I did. Why shouldn't they? And I am no millionaire.
▪️The only people who are not immigrants in our country are Native Americans. I support immigration reform if it is done in a non-biased manner and no one culture is singled out for unequal treatment. Immigrants come from many countries and should all be offered a path to full and equal citizenship.
▪️Collaboration is key to me in order to solve any problem. Be it a war truce or legislation, the person who has the skills to bring different people together to solve a problem where all interests are met proves true leadership.
▪️There have been recent landmark decisions by the Supreme Court in LGBT rights and affirmation of abortion rights. I look for a candidate who defends these decisions and will nominate any new Justice or Justices during their term who are not political appointees, have higher court experience, and a record of non-partisan decisions.
Sometimes I'm not even sure such a candidate exists, one who shares my belief system. But whoever comes the closest will get my vote on November 8.
DEBATE SCHEDULE:
Monday, September 26, 2016
First presidential debate
Moderator: Lester Holt, Anchor, NBC Nightly News
Location: Hofstra University, Hempstead, NY
Tuesday, October 4, 2016
Vice presidential debate
Moderator: Elaine Quijano, Anchor, CBSN and Correspondent, CBS News
Location: Longwood University, Farmville, VA
Sunday, October 9, 2016
Second presidential debate
Moderator: Martha Raddatz, Chief Global Affairs Correspondent and Co-Anchor of "This Week," ABC
Moderator: Anderson Cooper, Anchor, CNN
Location: Washington University in St. Louis, St. Louis, MO
Wednesday, October 19, 2016
Third presidential debate
Moderator: Chris Wallace, Anchor, Fox News Sunday
Location: University of Nevada, Las Vegas, Las Vegas, NV
Sources: Wikipedia; TIME; CNN; Business Insider; Washington Monthly; uspresidentialntial.com
Photo Credit: Angie Lealuez via Compfight cc