Letter from an Arizona Jail: My Friendship with Jodi Arias
"So the question is not whether we will be extremist but what kind of extremist will we be. Will we be extremists for hate or will we be extremists for love? Will we be extremists for the preservation of injustice, or will we be extremists for the cause of justice?" – Martin Luther King, Jr. "Letter from Birmingham Jail.
This is the story of the first of many visits I've had with Jodi Arias over the past year and a half—and the beginning of our friendship. Getting to her meant leaving the safe, east Phoenix suburbs and finding the jail near downtown in what I would describe as the antithesis of Arizona. No iconic desert palm trees, mountain views—not even a stray cactus.
Jodi is housed in Estrella Jail. This jail holds approximately 1,000 women who are newly arrested, awaiting sentencing in ongoing trials, incarcerated for anything from a probation violation to murder.
Estrella translates to star in English. I found the name to be a bit puzzling. Was this a shining object one sees in a dark sky, or the star of the jails? I've sometimes found that people just like the sound of Spanish words and the meaning has no relation.
I have never visited anyone in jail. My goal: to quickly learn the protocol for a seamless visit. A large sign in several places states that felons may not visit. I wonder, was this on the honor system? It seemed impossible that they could be doing quick background checks on each visitor.
First stop is a metal detector. Oddly, my patent leather loafers set it off. Then on through an eight-inch metal door into an anteroom. It appears as if it is mirrored, but the glass is actually a two-way window where correctional officers in the next room watch and buzz groups into the main visiting room. Visitors preen in these mirrors. It has to be most entertaining for the officers on the other side.I have now made it to the main visiting area. I reach a correctional officer at a desk, say hello, and feign perky as he takes my visitor form. Estrella is a high-profile inmate, due to her crime. This means I'm led to Room B, a phone booth like room with a glass divider, where I am to sit and speak to her by microphone. These small booths line the perimeter while approximately 40 wooden tables fill the middle of the room, where the majority of the inmates—not classified as high profile—visit their guests.
Now, I must say, by this point, I am operating in surrealistic mode. I am pretending like I have done this a dozen times before, that nothing shocks me. I act as if I am oblivious to people watching me walk into a no-contact room. In my mind, I've decided to pretend as if I am meeting a girlfriend at Starbucks.
Jodi is brought to her tiny part of the booth 10 minutes later. The doors on both sides are closed. It is a seemingly private conversation, but I'm fully aware it's being recorded. Not that I have anything outrageous to share, but if the county prosecutor chooses, he can listen to our conversations. This is the first time we have met, yet talk comes easily as we are both friendly. I was struck by how young and pretty she looked, and by her sweet demeanor. I calculate our age difference, that easily makes me old enough to be her mother.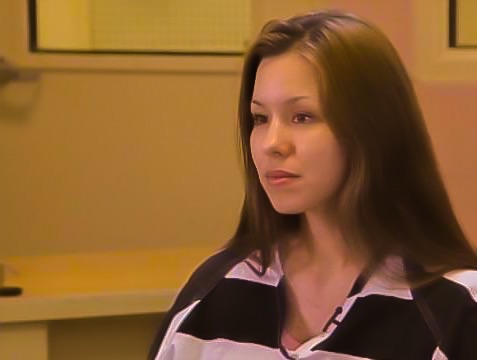 Even though I was still operating in other-world mode, we spent a good amount of time giggling, not unlike my pretend Starbucks vision. She is quick-witted, funny, and laughs easily. She was someone I wouldn't mind getting to know better. Just a young girl, really. I left reluctantly when a correctional officer announced the visit to be over. I looked back and waved as I was buzzed through the security doors. She was sitting alone in the room. It must have been a welcome break from 23 hours alone in her cell every day.
I continue to visit her, and we continue our mini-book club discussions, share favorite authors and talk about art. I tell stories about my family and friends. We have never discussed her trial, the past, or the future. It's just a brief respite from reality. Even for me. Because I've made the decision to visit her, I separate her from her crime. The only Jodi I know is the one I see for 30 minutes every few weeks. I still hold on to my belief that it is not my role to judge, but rather to be an extremist offering love and small kindnesses.
However, I would be remiss to ignore the subject of crime value. What exactly are the moral parameters for an acceptable inmate to visit? Am I truly an honorable purist who sees only the individual and not the crime? Would I spend my precious time with a check forger but not a sexual predator?
There have been many lessons in tolerance, and some hard truths for me with this experience in learning the measure of hate that people can hold for criminals. And sometimes hate for me and my choice to befriend Jodi. But I have to wonder, is the hate properly aimed at the person, or should it be aimed at whatever demons or mental illness drove that person to commit the crime? Do people deserve mercy and forgiveness and is redemption possible? I ask these questions constantly.
I recognize the unbearable pain of victims, but I do not understand the bloodthirsty need for revenge. I do believe in the justice system, with the exception of the outdated and barbaric death penalty.
So as I write my letter from an Arizona jail—of a story that does not yet have an ending and has challenged my personal morals and intentions—I hope that I am Dr. King's version of an extremist for love and for justice. I have changed from a person who didn't know where the Maricopa County jail complex was located into someone who can easily maneuver a visit with a person convicted of a capital crime and spend 30 minutes synopsizing on the latest season of "Orange Is The New Black" to her. An irony not lost.
Epilogue:
Jodi Arias was first found guilty of murder in the first degree in May 2013. It was a hung jury during her first sentencing. A second sentencing trial that started a year ago resulted in a sentence of life in prison. Jodi is now housed at Perryville Prison in Goodyear, Arizona. I continue to send her books, write, and visit her.
Photo Credit: ChrisMiller513 via Compfight cc