My Wife's Macho-Mama to MILF Makeover
Ever since I was a teenager, I was told the same thing over and over again:
"Dave, if a girl has boobs, you're already in love with her!"
And ya know what? They were right. I loved all girls – no matter what the stereotype.
Over the years, my admiration for a mélange of women hasn't changed much. I still love them all : macho girls, tomboys, nerds, playgirls, adventurous girls, shy girls, smug girls, feminists, possessive girls, bitchy girls, ethnic girls, needy girls, and of course, girly-girls.
Ah, girly-girls. I typically find myself ogling over them and frolicking with them at every opportunity. I inevitably find it quite entertaining if they break a nail or think that their hair is out of place and then get overly hysterical about it. I may not quite understand it, but if girly-girls want to entice and impress the opposite sex, their glamour-shot allure carries an amazing amount of power.
A few years ago, I had the privilege to be teamed with the epitome of girly-girls for a work project. As soon as the project was announced, I called my wife.
"Hey, baby, uh, yeah. Well, I've been assigned to work with that girl Tiffany on a work project. Ya know, the one that's all that? Remember, the one I told you about?  She has the looks, the brains, and the personality? Yeah, that one. She's the total package. Are you cool with us working together?"
My wife, the ultimate tomboy, didn't skip a beat with her witty reply.
"Of course I don't mind. Because she's so out of your league, you'll never have a chance with her. And because she is the total package, she'll make you look good when you spend time with her. Be sure to take full advantage of that to bring up your desirability level."
Making the most of my wife's advice, I spent every moment I could with Tiffany. Blaming our assigned work project as the culprit, I scheduled countless breakfast meetings, dinner meetings, and useless meetings about nothing  – always getting together in a busy public place – in a brazen attempt to inflate my own image. At first, it as a blast to play I'm-on-a-make-believe-date with the total girly-girl package. However, after a few weeks of ten-hour days side by side, I learned that it was a full-time job for a girly-girl to maintain her star-quality aura. When Tiffany told me she wakes up at 4:30AM to get ready for an 8AM meeting, I learned a valuable lesson : girly-girls are great to look at but I could never be married to one. Too much maintenance, I thought. I was instantly relieved that I married the complete opposite of the typical girly-girl : I married a macho-mama.
Since 2009, my wife dressed up and wore makeup a total of two times. That's right, two times : once on our first date and once when we got married. On a typical day, she wears nothing but a stained, cat-themed t-shirt, raggedy old jeans, and beat-up tennis shoes. If it's a good day, she may brush her hair one or twice. But it's OK – she's perfect – perfect for me. She'll sweat, get dirty, work hard, and easily kick your ass if you piss her off. Granted, she'll never sip fine wine from a fancy crystal glass, but she'll drink cheap whiskey straight from the bottle.
This past summer, we had the privilege to attend a friend's wedding in Virginia. Because my wife hasn't dressed up or wore makeup since 2010, I begged her to girl it up. After all, it was a special event. After much persuading, she finally agreed to wear a dress, get a manicure and even a pedicure! I was ecstatic- this was going to be better than Christmas! Yeah, girly-girls may not be my thing – but there are always exceptions.
After disappearing for a few hours on our friend's wedding day, my wife emerged with an extreme makeover bigger than those you see on TV. I literally lost my mind with giddy, juvenile, lustful delight. She was unrecognizable – even to me! I quickly grabbed hold of her arm and haphazardly paraded her around for all to see. I wish I had a loudspeaker in my hand. At that moment, she was the ultimate MILF.
Everybody! Look! This is my wife! Look at her! Wow! She looks incredible! Yeah, and she's married to me! See? Look how amazing she looks! 
After her grand entrance, I instantly became stalker hubby during the wedding reception. I put my cell phone right up in her face and started snapping photos- dozens of them in fact. I was afraid that somehow, without warning, she would exclaim "I hate this crap" and immediately dress down to normal. In desperation, I took even more pics. Is it really possible to stalk your own wife? I pondered, snapping away.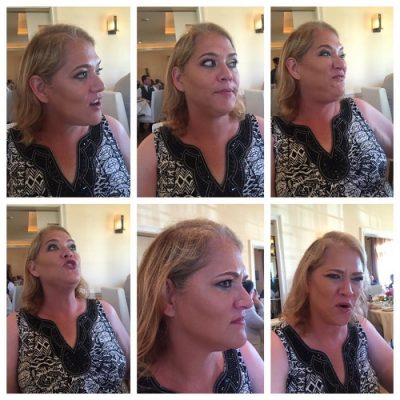 At the end of the day, my wife couldn't wait to shed her newly-fanged girly-girl image. In a way, I was ready too. Although it was big fun, I started to see her hair tatter and her makeup smear. She already ruined her her pantyhose hours before. My wife was no girly-girl – and that's exactly why I fell in love with her in the first place. For her, the extreme makeover was a temporary image she didn't enjoy – an image designed to hide her true self. Despite all the attention she received, she felt isolated and uncomfortable when she was all dolled up and adorned with layers of girly garb. In fact, after removing her Spanx, she exclaimed "Whoo Hoo! I just experienced a Pillsbury dough explosion!" For me, she knew that I would be consumed with giddiness and ogle and gawk at her all night long.
Yeah, I still admire all women, no matter what the stereotype. Yeah, I loved it when my wife girled up with an extreme makeover. But, in the end, I'm convinced that I'm much happier being married to a simple t-shirt, blue jeans and ponytail kind of girl and not a high-maintenance superstar.
Meanwhile, however, my wife's Macho-Mama to MILF Makeover will always be a fond memory.
Photo: © Dave Pasquel All Rights Reserved