A long, long time ago, when fashion was fierce and supermodels reigned supreme, I was fortunate enough to have been chosen to walk (stumble really, like a goof ball), down the runway, for some of the most legendary designers of that time (the 90s).
In those days, during "show season," I would find myself in Paris or Milan, scrambling from one show casting to another—trying to walk in heels, trying to have great posture, and failing to do the all important 3 point turn.  What a joke.  At one point the legendary J. Alexander (America's Next Top Model) even tried to teach me how to walk—shoulders way back, torso almost completely immobile, hips thrust forward, swinging from side to side. Mr. Alexander left my apartment in apparent disgust, due to my complete lack of coordination. It felt like he was embarrassed to be associated with me.  I never did have rhythm—not then and certainly not now (unless tequila is involved).
Helena Christensen, Claudia Schiffer, Linda Evangelista, Naomi Campbell, Eva Herzigova, Carla Bruni, Kristen McMenamy, Susan Holmes, Monica Bellucci, Kate Moss … oh the list of utterly cool women that I walked with during those days goes on and on … the "Who's who of Fabulousness."   Needless to say, I always felt like an imposter. Like, at any given moment, somebody was gonna shout, "Who let her in?"
The cut throat fierceness was de rigueur at all times, pre-show, during- and post- show season.  Inevitably, without warning, someone else would always show up and outshine me, out walk me and out cool me.  Fashion is fickle like that.
The out "walking" me bit was uncontested. I knew then, as I know now, my two left feet are here to stay.  The only option left was to pump up my "cool" level.
For a girl like me, being cool has always been difficult.  Being raised a Jehovah's Witness, I grew up in a sheltered environment, i.e., no sleepovers, no Christmas, no birthdays, etc. … (That is another story.)   My background was the antithesis of the "Rock Chic" chick I had to become.
Have you ever heard the saying "You can take the girl out of the country, but you can't take the country out of the girl?"  Well, in my 20s, when I was part of the pack, my "country girl" self was squished deep inside. I tried my best to hide her behind expensive Persol sunglasses, dress her up in designer duds, clad her pig trotter feet in "Manolos." I did the best anyone could do to remain in disguise.
This brings me to the Lacroix pants
Unlike the other supermodels, I was a single mom at that time. I commuted to and fro via many jet airplanes, and shlepped the kid, nanny, and various animals from city to city, country to country—exhausting for all involved. I never lost anyone or anything in transit. I did leave behind a Salvador Dali piece once (yes, a genuine Dali), on the airplane. No, it was never turned in to the lost and found. That sucked.
Also, unlike the others, I never made friends with the designers. I just had no time to become best buddies with them. Being a single mom can cramp a person's social schedule, so no cool freebie duds for me.
My country bumpkin, mom-jeaned self, had to morph into "supermodel" material, literally overnight.  Barney's and Bergdorf's saved me countless times.  A brand new wardrobe was purchased by me every single show season I attended.  The investment of thousands of dollars kept the illusion alive, and my confidence up. With my disguise firmly in place, my cool self, booked some pretty fierce shows.
Valentino, Chloe, Mugler, Montana, Chanel and Dolce & Gabbana were just some of the designers that took a chance on me and my uncoordinated trotters.  My fashionable supermodel friends were very kind to me, gave me props and shared giggles, cell phones, and taxi numbers. We had a blast!  (I won't mention the time on the Chanel runway when 'what's her name' tried to trip me.)
Dolce & Gabbana was one of my favorite shows to be a part of. Those guys have style, class and sex appeal. Champagne flowed, and everyone had good vibes. One season I was invited to walk for them in Rome. It was a fashion spectacle of epic proportions. All the supermodels were there, and quite a few celebrities. Isabella Rossellini was "one of us" that particular moment, strutting her stuff.
My cool was ready because I bought it. Not only was I toting a brand new Chanel handbag, I walked in donning a brand new pair of Christian Lacroix pants, purchased just 24 hours before. Finally, I felt fashion forward. Those pants were one of a kind, funky and fabulous, crushed velvet with every color of the rainbow swirling through the fabric—acid meets Warhol. Those pants were the COOLEST pants ever!
My head was held high that day.  I even had a bit of a sashay to my walk that day, surprise of surprises, I assure you.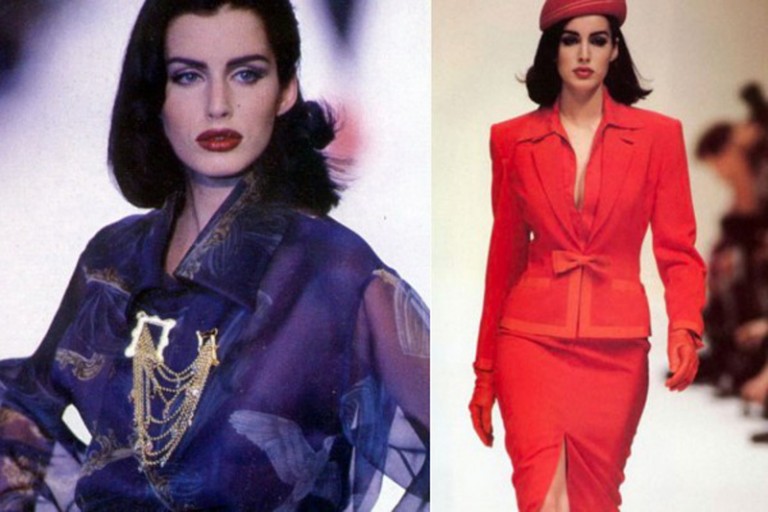 Fierce was my middle name.
Everyone turned and gave me the eyeball. Hell, some even gave me the ultimate compliment, they commented on my attire. Suddenly, I was part of the "in" crowd. A pair of epic pants will do that for a person. Rubbing shoulders and strutting with the best of the best. That night, we knocked the socks off the crowd and made Dolce & Gabbana proud.
After the show, with the party over, it was time to gather our gear and coordinate the evening's events. Everyone was chatting away about the best restaurant, tables reserved at the right nightclub and whose driver was going to collect who.
Everyone that is, except me, because I was looking all over for my pants.
One by one, the goddesses of fashion left backstage until there was no one left, just me, in my underwear. I was standing there in shock because SOME BITCH STOLE MY LACROIX PANTS!!
The mystery of the pants continues to confound me.  To this day, I don't know who stole them. I hope that whoever the clepto was that stole them, enjoyed herself and those pants thoroughly before her muffin top took over … Bitch.
Mercifully, Stefano Gabbana was kind enough to pass me a dress to wear back to the hotel. He even said I could keep it.  It was a killer full body corset dress.  It just so happens it was the dress that Ms. Rossellini wore during the show.  (That dress became my favorite dress ever. Then, it too was lost to me, as well. I blame that on the transatlantic movers.)
The mystery of the pants continues to confound me. To this day, I don't know who stole them. I hope that whoever the cleptomaniac was, enjoyed herself and those pants thoroughly before her muffin top took over … Bitch.
Photo Credit: gabrielsaldana via Compfight cc