Why the Women's March on Washington is So Important
"There will never be a new world order until women are a part of it." – Alice Paul (January 11, 1885 – July 9, 1977)
The historic Women's March on Washington will take place on Saturday, January 21, 2017, the day after the Presidential Inauguration.
Why are (some estimate millions) of women from across the United States coming together in unity in a grassroots demonstration with a message for President-Elect Trump? The issues at stake are critical, not only for women but also for families and the rest of America. These are not just women's rights―they are human rights.
The platform includes:
▪️gender equality
▪️racial equality
▪️LGBTQIA equality
▪️economic justice
▪️reproductive freedom
▪️equal pay
▪️paid family leave
▪️labor protections
▪️clean water and air
▪️access to public lands
▪️an end to violence against women
▪️police brutality and racial profiling
Linda Sansour, one of the March organizers, who serves as executive director of the Arab American Association of New York, states:
"We are watching you. We are ready. We are fired up. And we're ready to fight back and protect our communities,"
Helpful March website links:
Official Women's March
ACLU Know Your Demonstration Rights
Sister Marches―solidarity events inspired by the Women's March on Washington―and organized by volunteers around the world now number 616.
If you can't make it to Washington, D.C. on January 21, join or host a Sister March near you! This link will help you find out how to participate: www.womensmarch.com/sisters.
Amy Schumer, Chelsea Handler, Scarlett Johansson and more celebrities plan to participate in sister marches to send the message that:
"Women's Rights are Human Rights."
I heard an interesting anecdote this week on MSNBC. One of the commentators noted that 200 bus permits had been issued for the Inauguration and 1200 bus permits were issued for the Women's March.
This does give one pause.
Which event will garner the most media attention?
The President-Elect taking over President Obama's position; with historical unfavorability ratings and a significant number of Democrat congress/senators boycotting the inauguration based on Mr. Trump's divisive remarks. (The "peaceful" transition of power is turning out to be not so peaceful.)
Or the Women's March? That is rapidly becoming a war cry?
Social Media is hosting a gamut of opinions on the Women's March from full support and participation to controversy over the PussyHat Project. This project offers marchers a knitted pink "pussycat" hat to wear at the March and matches up knitters as a way to be involved.
Feminine Collective contributor Mary Rowen has written a wonderful blog: March If You Want To. Wear What You Like. Mary offers her observations on the dilemmas of participation. Both Mary and her young daughter will be going to Washington, DC to join the March wearing Pink PussyHat hats knitted by me.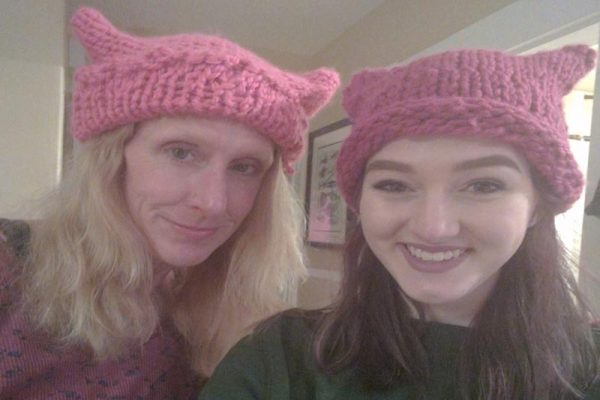 The March is not limited to women only.
We know that men are feminists, too, because Feminine Collective columnist John Michael Antonio tells us so in Why I am a Feminist and Other Men Should Be, Too.
There has never been a time in history when so many women's rights have the potential of being in serious jeopardy.
There are many ways to participate, even if you just support the idea of the Women's March on Washington.
As my friend Mary says,
"March if you want to. Wear what you like."
"Our lives begin to end the day we become silent about things that matter."-Martin Luther King, Jr.
Graphic courtesy of womensmarch.com