Are You Masculine Enough to be Feminine? Effeminate Men are Sexy!
My husband could not be anymore of a "man." A macho, tough, tattooed, spitting, cursing, truck driving man. Really this is true. I met him when I was 14, and he was 16 in New York where we grew up. He hooked me up with his best friend on the first day I met him and disappeared. I dated his best friend in hopes that I would see him again. I did see him sporadically. And when he did show up – he was a light. Something about him was so exciting. He was extremely charming and cute beyond words, and he was just THAT boy. He was an excellent athlete and a star hockey player. He had charisma coming out of every orifice.
My friends and I would show up at his house early on Saturday mornings to wait while he and his brother prepared for their hockey game. His three little sisters would play "Please Don't Go Girl" by New Kids on The Block, and he would sing along with them. I remember him saying, "I love this song. I love the New Kids!"
When we arrived, he was always cooking. He was always making breakfast, and he was fast in the kitchen and thorough. Eggs, bacon, toast and a glass of juice. Fork, knife and a napkin. My dad didn't cook so this was new to me. It was hot that he cooked. It was hotter that he cleaned up – completely. When he was done, it seemed as if no one had been in the kitchen.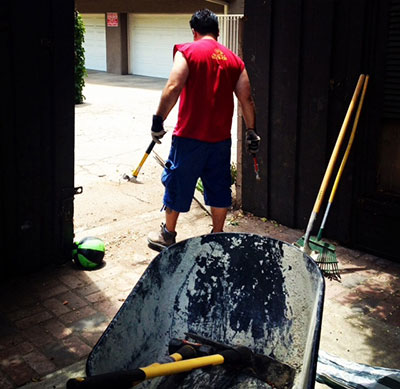 We grew up, and we got married. We have two daughters. Three dogs, a gecko and a beta fish. He's a wonderful father. He's a providing husband. And his bedroom eyes are so sexy there are no words. He's a man. He claps too loud when he watches sports. He leaves his socks on the floor. He steps out of his boxers in the bathroom and leaves them there. He spits in the sink and doesn't wipe it out. He doesn't listen to me when I talk, and he pulls his toe nails off manually. Like – he doesn't use clippers. He just rips them off and eats them. Yeah. That's really true. He EATS THEM! HE IS REALLY A MAN.
But even though he is hard and coarse, even though he's male through and through, the things he does that fall on the softer side are the things that make me ask myself, "How did I get so lucky? How is he mine?"
Yes, he still cooks. A lot and he's good at it. He still cleans up after dinner completely. He cleans the house. He sweeps and mops and rearranges the couch. He does the laundry, and he folds it and SOMETIMES he puts it away. He stills sings boy band songs with me in the car. N' Sync, 98 Degrees, and of course New Kids on The Block – Greatest Hits. He even gets down to Spice Girls. These are all things that "GIRLS" do, right? No. Sexy men sing Spice Girls. Real Men Mop.
He is most enchanting when he watches "Sofia the First" with our five-year-old daughter and sings the opening song with her. AND he knows every character's name in the show. Or when I gave birth to our second daughter, and it was our first night home with her. Our eight-year-old daughter lost a tooth and went to bed waiting patiently for her special tooth fairy to come and leave a present and a note. Previously, I was the one who would leave the present and write the note. But I fell asleep with our new baby and couldn't get up to handle the tooth fairy that night. I fully expected to wake up to a very sad and disappointed little girl. But instead,she had a twenty dollar bill in her hand with a typed note. It was typed and printed out. It said all I would have said and more and he signed the note with a name he made up all by himself … Drum roll, please … My husband named the Tooth Fairy "Tatianna Ariel Mist."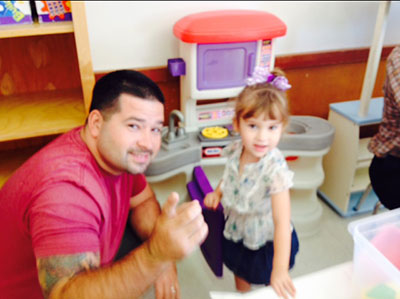 It was amazing. My daughter was thrilled and rich. And I was mesmerized by that fabulous name. He made me believe that there might actually be a Tooth Fairy. And even more thoughtful – he typed the note because he didn't want her to suspect that the handwriting was different from mine, which she'd seen in previous notes. Don't "women" only think of these things?
I remember when my older daughter got the "Barbie All Dolled Up Stylin' Head." That's that head and shoulders only Barbie that's creepy, but little girls love to brush her hair and color it and braid it and cut it, etc. I took photos of my husband kneeling on the floor, brushing Barbie's hair and as he brushes Barbies hair, our daughter is applying red lipstick and blue eye shadow to MY HUSBANDS FACE. They were having a "stylin' make over party."
He drives fast and chews tobacco. He forgets what I tell him to get at the grocery store. BUT he stays up LATE on Christmas Eve and wraps every single present. And believe me, he makes sure that there are too many presents for all of us. And he wraps well. Neat. Clean cuts and good tape. He is the Tooth Fairy and Santa and the Easter Bunny. He wears my pink flip flops outside when he walks the dogs, and he does this three times a day not including the trip to the park with the three shedding dogs because he feels bad for them. He knows they like and need to play.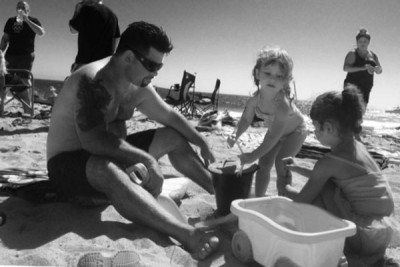 This all goes down when he's not working, and he works like a horse. He is up before us, and he gets home after we are already asleep. He drives coast to coast so that we have that extra stash of cash we need so that we can get the kids the things they want and need. My husband Kenny is the perfect amount of masculine and the perfect amount of feminine. He attributes this to having grown up with his sisters and his mother. He is absolutely masculine enough to be feminine sometimes – he's completely comfortable with his sexuality and so am I.
So if you're a guy, and you're pumping iron and sitting on the couch with a remote in your hand waiting for your girl to bring you your dinner. You now know that you are not sexy. Turn your game around and strap on an apron, hand her the remote and get to work. Watch Rachel Ray if you have too … but cook her dinner. And don't forget to clean up. Completely.
Photo Credit: © Elizabeth Regen All Rights Reserved