Why I Became a Showgirl in Italy
It was 1989 and New York City was a moshpit of pod people in a capitalistic orgy, its subways filthy, its inhabitants like extras in a Fritz Lang movie, in a perpetual, synchronized rush, their eyes empty sockets leading down into abysses of nothingness, with no end, just black matter, or anti-matter, the human equivalent of black holes, eating air, masticating souls, defecating soot.
At least that's how I saw it.
In this creatively bleak époque, I was a modern dancer. By day I beat a path up and down Broadway, going from a morning ballet class to auditions and back. One moment I was jete-ing across the floor to the Chopin played by a live accompanist, the next I was on the street and blasted by a cacophony of car horns mixed with guys yelling at air, telling it to "MOVE IT ALREADY!" After the sun set, I worked the third shift at a multi-national corporate law firm, wearing jackets with shoulder pads fit for a linebacker and collating documents that talked about merging and acquiring and other topics I could not understand a fucking word of. My existence was schizoid and made very little sense, least of all to me.
It was 1989, and I wanted a boyfriend.
Let me re-phrase: I didn't just want a boyfriend; I wanted a whole new life. I wanted to trade Fritz Lang for Almodovar, to spend my days drinking Rioja with quirky people and getting into fun, non-life threatening high jinx. I wanted to be in a Matisse painting, sitting in a light-filled living room overlooking the Mediterranean with a bowl of fruit in front of me. I didn't want to be where I was in a city that I felt alienated from.
I didn't want to be the fifth wheel during that popular New York ritual known as brunch, me the only one not basking in a rosy afterglow, my chair jutting out awkwardly from the diner booth. My roommates had real jobs and relationships that lasted longer than a bathroom hook-up at a college party. On weekends, they'd spend the morning in bed, then throw on sweats and proceed to ingest massive quantities of toast and eggs to replace the calories they'd spent the last few hours burning. I didn't want to be the one sitting in the lonely armchair as the couples got cozy on the couch while we all watched a movie, to walk in while they were cooking some fantastic meal, my own stomach hollow from poverty and borderline anorexia, and sneak my way into the fridge without looking like I was angling for a dinner invite. I didn't want to be alone, and alone I was. So fucking alone.
Okay, so dammit, I wanted a boyfriend.
It felt like forever since I'd had one. A real one. All through college, I watched my fellow co-eds couple and un-couple as if it were the easiest thing in the world. Maybe it was because my father died mid-way through my freshman year, maybe because I grew up with the over-the-top gallantry the South is famous for, but I had a tough time adjusting to the mating rituals of the northeastern male. There was the guy I dated my junior year who was five years older and whom I loved madly and stalked for a longer time than we were together. There was the blond Princeton guy who worked in finance, plus countless others I'd formed intense attachments to in my own mind that basically wanted nothing to do with me.
So when I got an opportunity to work as a showgirl in Italy, dancing in a nightclub wearing a g-string and then sitting with the patrons after the show earning a commission from the drinks they bought me, I jumped on it.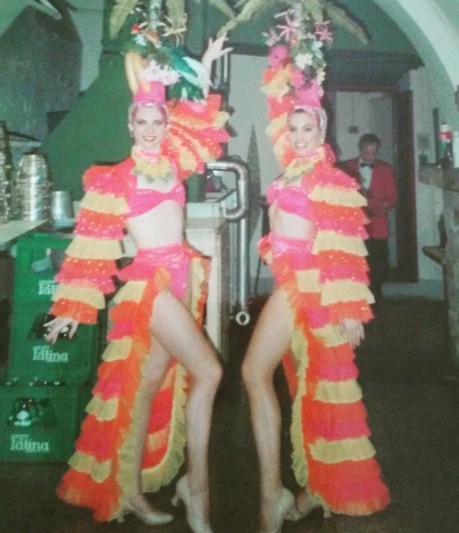 This is a story about wishing really hard for something, getting it, clinging to it for dear life, then doing your best to fuck it up when you realize that what you had in the first place wasn't so bad after all.
Rehearsals started in a seedy studio somewhere in the west fifties – one of those old-school places most likely since replaced by a charmless cluster of live/work lofts. The dressing rooms were tiny and cramped and the flamenco dancers one floor above pounded like a migraine, but for six weeks five other dancers and I worked our asses off, learning how to move using only below-the-belt body parts. We were in training to balance a headpiece the size of a miniature poodle on our heads. "Hips and legs, girls, hips and legs!" was screamed from the sidelines by our choreographer, or capo balletto, one Loretta, who fueled our passion for men, pasta and cheap leather goods.
We bonded big time.
There was Kathy, originally from Richmond, Virginia, who had an amazing sense of humor. Her pint-sized agility made her shine in the aerobics number designed to dazzle the locals with pure, high-energy Americana. Lee was from Portland. With translucent skin and reddish hair, she managed the hips and legs ethic better than the rest of us and boy did she rock the mock-S&M number set to Grace Jones' "Nightclubbing." New Yorker Irene wasn't the brightest light on the marquee, but she clearly had a past which made her interesting. Daphne was a Texan with a perfect nose, a big head of blonde hair and an earnestness that seemed out of step with her home state. The French maid piece set to "Peter Gunn" seemed written with her in mind. Loretta, our capo, was a bottle blonde from Bayside, Queens and married to a strong silent type named Don, who designed the tiny garments that would be nominally covering our bodies. According to his wife, he had a long career behind him. "You remember the costumes worn by the dancers in Pet Benatar's last tour? They were all designed by Don. Every single one."
It was June. For four, sometimes five hours a day we practiced moving with elegance and grace on a stage the size of a New York kitchen – a New York kitchen with the oven on. Afterward, sweaty, smelly and completely spent, I'd lollygag my way back to Brooklyn. I told everyone I was touring Italy for six months. "You're gonna meet a guy there," they'd all say. Of course, I desperately wanted to believe it was possible. As I put almost all my personal effects into a storage unit and gave notice at my job, something in me shifted.
I was a part of the American Balletto, as Loretta deemed us.
The fact that we were working so hard on the dances lessoned, in my mind, the other half of our job duties. Clearly we were perfecting a very specific aesthetic – and though it may not have been on the level of Martha Graham, it was no less valuable within a certain cultural context. Besides, I'd heard about dancer friends who'd gone to Japan or even Midtown Manhattan where the job required sitting with the customers after the show. Now obviously I downplayed this minor detail when I proudly blasted my good news to friend and neighbor alike, but that was because, well, it was so inconsequential in the scope of the adventure. Only a dance teacher from my alma mater, Barnard, whom I'd run into on the street questioned my plans. "Are you sure you want to do this?" she asked. Fuck yes, I was sure. I was sure I wanted to get away from memories of four lonely years at that very institution. I was sure I wanted to flee the city in which it made its home. I was sure I wanted to escape the very thinking it promoted: linear, narrow-minded, and so fucking un-fun.
We landed in Florence in the middle of the summer, our naïve American faces blending nicely into the sea of naïve American faces lined up outside the Duomo or hogging tables at the outdoor cafes. Still, I couldn't help but think heads were turning as we promenaded across the Piazza della Republica at dusk on our way to work, our faces painted brightly with stage makeup. Our place of business was a nightclub in the basement of a building close to the river. Its name was Pozzo di Beatrice, after Dante's muse Beatrice Portinari; but all lofty literary references ended there. The place was a single dark and cavernous room with rust-colored stone tiles and vaulted ceilings. Columns and mirrored walls made the place seem bigger and loftier than it was, with each column adorned at its base by a circular banquette. It seemed like an afterthought, the kind of place that in Medieval times was used to store a sword collection or serve as a torture chamber annex.
It was opening night.
Had I been brimming with anything other than anticipation and excitement, I might have felt a slight disappointment as I blasted the audience with my big American smile fit for a packed Madison Square Garden. Instead of a scene right out of a Dietrich movie with white tablecloths and classy couples drinking Dom, there were a handful of men over sixty wearing bored expressions who couldn't have given less of a shit about our dance skills and were simply staring at our crotches. That's right – our crotches. And they didn't seem particularly taken with them either. These were blank stares, as vacant as those I'd encountered on a New York street. I might as well have been shaking my ass in a subway car, trying to enliven a crowd of jaded commuters.
After the show, I peeled off my fishnets and g-string and donned the nicest clothes I owned, the ones I'd be wearing for the second half of the job requirement. I was the first of the dancers to be requested to sit with someone and even though he was a man in his seventies who didn't speak a lick of English, I felt wanted. I was already starting to think I might play well in this country – I heard the catcalls as I walked through the piazzas where men clustered like extras in a Fellini movie. The Italians had a unique ability to spot a self-loathing American girl from five kilometers away and make her feel like Kate Moss on the catwalk. It was magic.
So no – I didn't mind hearing Umberto say "Mi piace Jessica" fifty times in the course of an hour as I drank my watered-down drink and smoked Marlboro Light after Marlboro Light. But then I looked across the room and saw Lee, Kathy and Irene matched up with three uniquely Italian specimens: one dark with piercing blue eyes and a crisp white shirt opened just enough to be sexy but not too much to be swarthy; one round and bald but fucking owning it; the third with a big-toothed smile and hair that swept back dramatically, coming to nestle snugly under the ear. They were handsome, they were stylish, and they were young. I looked at the fawning Umberto and realized that once again when it came to men, luck was not on my side. Here I was being objectified by this fossil while those lucky bitches were talking, laughing and – even worse – doing it all in English.
Photo Credit: mikecogh via Compfight cc