How to Love Your Body Every Day!
As a teen, and young man, I suffered from Body Dysmorphic Disorder (BDD). I hated my physical appearance and always thought myself fat, ugly, awkward, undesirable, and Spanx-worthy. In fact, had Spanx® existed back then, I would have covered myself from head to toe like a French saucisse, so I'd feel thinner and have less room to hate myself.
It turns out I would have been more ridiculous and a lot less desirable if I had Spanx-mummified my lean self. The problem is that the handsome young man in the attached photos didn't think himself handsome. I remember the day the photos were taken quite vividly. BDD sufferers have a sharp memory of moments where they felt vulnerable and exposed. On photos, I felt fat, inadequate, and certainly unworthy of being in the company of these amazingly beautiful young women. Hi, Martha. Hi, Tammy!
Nowadays, I forgive my young self for his self-hatred, and I am glad that I was skilled at putting on an effective façade because looking back, I looked pretty darn good, and did not ruin the picture.
The issue with BDD is that it causes me to see myself through the prism of a shattered and suffering mind, my own, toxic brain restructuring molded by relentless years of emotional, verbal, and physical abuse. I do not see my body objectively through the eyes of the beholder, the photographer, or the admiring older self, years later. I see my body through the eyes or the words of my abuser—the one responsible for my injured mind.
My abuser was a disease, Narcissism. My dad's narcissism to be exact. I blame his disease because it was genetic, and, therefore, unintentional, on at least two accounts: a spectrum brain easily dysregulated by years of poverty in post-WWII France, unlucky social cast, and a porn star size pecker, lucky dick-size lottery.
Narcissism, gigantic dick, and a big mansplain piehole easily activated by traces of Asperger's syndrome, resulted in an uncensored daily celebration of one's supremeness with no mindful considerations for one's audience.
A simpleton, my dad, barked hyperbolic comparisons with his rooster talk. There were also constant mockeries. And belittling insults. And none of that ever stopped, because my dad was a broken record, and the brains of my little sister (also a victim) and mine heard the echo of his oppressive boasting in their constantly triggered minds.
We were tiny children forced into a daily comparison we did not comprehend. We suffered greatly. My dad was as skinny as he was dick-monstrous, and he verbally harassed us with his additional (thin) layer of narcissism. My sister and I felt fat on our bodies where there was none. We grew up feeling ugly when we were, in fact, beautiful children (photo below).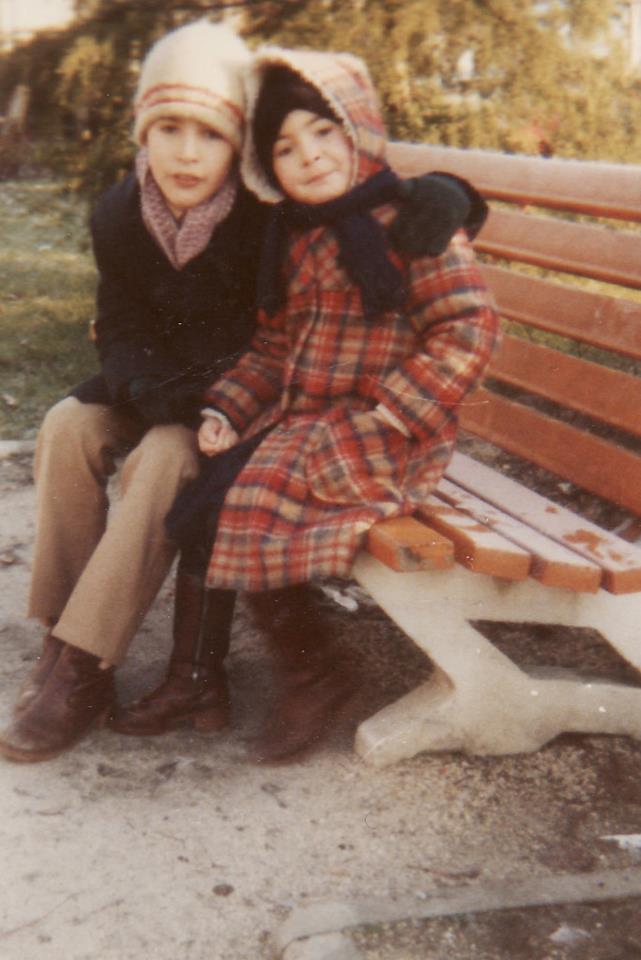 To put it simply, children cannot 'play' the measurement game when the ruler of the game, the decider of the rules, is an over-proportionate 6'6" stick figure with a loud mouth and tactless manners. We could only lose. Our dignity was shattered. Our self-worthiness destroyed. Our potential for a healthy self-image annihilated playing that insidious game: "P'tite quequette … P'tite grosse!"
BDD it turns out is also a form of narcissism, except that it is the mirror opposite of self-aggrandizement. It is absolute objectification, mirroring the shadow of self-hatred, self-loathing, and self-destructiveness. It's beautification morphed into uglification. An ugly word, isn't it? Well, that's exactly how BDD feels: uglificating!
Today, I have a family meal to attend and my dad is long dead. So, he won't talk about his dick, and he won't remind us how fat we are in front of the people I love, people who love me. Although, at one point in my life, family meals triggered flashbacks. They don't anymore. Not because my dad's small brain and big dick have turned into a worm feast (Thank you mighty worms!), but because I've been to a lot of therapy sessions. I am also surrounded by people who love me just the way I am: tall, shy, silly, and too clever for my own good.
The mirror my American family holds in front of me has always been kind and fair. I give them heartfelt thanks for their unconditional love.
On Thanksgiving, the meal traditionally placed in front of me has been generous. I know that Thanksgiving should not be an exercise in fat shaming because the tradition is about reaching high on the food coma scale. But by all honest culinary standards, the Thanksgiving spread is still way too much food—it's not my BDD brain flashbacking.
Today, on Thanksgiving I know I can eat as much as I want because I know when I feel fat, and I tell myself I am fat, I am not lying. I know I'm not deceiving my brain from years of post-traumatic struggles.
Today, I will eat way too much turkey, stuffing, cranberry sauce, broccoli casserole, mashed potatoes, and sweet potato casserole, which I will cover with gallons of dressing and pounds of butter. Feeling fat under these extreme eating conditions is only fair—yummy fair until the next day.
Tomorrow, the day after Thanksgiving, I have a perfect solution to make me feel and look more within acceptable anatomical proportions. At age 45, I have accepted that sporting a micro potbelly is not the end of the world—as long as I can still see my you-know-what when I pee. I no longer have the reflex to re-injure my mind with unfair body dysmorphic criticism. I have come to love myself physically to the same degree that I have come to accept myself intellectually.
However, I am also prepared for those occasional BDD relapses. A perfect solution I owe to Sarah Blakely, a superstar business woman from Atlanta: form fitting and soul flattering Men's Spanx!
So, Happy Thanksgiving to all and Happy Spanxgiving tomorrow and Thank You, Sarah!
–Michel Bordeau, Area Frenchman–