Spooky stuff: Bella Vista Lodge, Dominical, Costa Rica
For three idyllic years, from 2010 through 2013, I was the proprietor of Bella Vista Lodge on Costa Rica's southern Pacific Coast, possessing one of the most incredible views in Costa Rica.  Sitting about 1,400 feet on the Escaleras mountainside, the 180-degree view stretched from Manuel Antonio to the north, south to the Osa Peninsula.

The main lodge was a largely an open-air, 80-year-old farmhouse made of mahogany. Cabins and old stables made it pretty cool. It always had an incredibly, spiritual feeling. One look at the view would unwind the most rat-raced, tight-assed people into putty. I had incredible guests from all over the world in all walks of life. To get there required four-wheel drive, and crossing through (not over) a sometimes treacherous river and a very steep stream bank. Roads were pretty rough. Dirt and rock. Not an easy place to get to or leave.
Odd things had been happening for some time, but I was so distracted with trying to build a business and the hours I was working that I just sort of filed it away to be dealt with later. I had been exposed to stuff of a paranormal nature in the past, and I get a kick out of that kind of stuff, so no big deal …
Sunrise and sunset are both quite early, and exquisite.  Just up and over the mountain behind the Lodge was Nauyaka Waterfalls—breathtakingly beautiful and a short horseback ride away.  Escaleras and the Diamante Valley were amazing and steeped in history. In Pre-Columbian times (before the 1500's) the area was home to the Indigenous tribe, the Chibchas.  They came north from Colombia and were known for their tendency to war over possession of the most prime land. They kept slaves for work and human sacrifice, and it's believed they were responsible for one of the great Costa Rican mysteries—granite spheres, perfectly formed and anywhere from the size of your palm to 15 tons. The nearest granite was 30 miles away, and no one has any idea how they were able to tool a perfect sphere. There are people who attribute this to a little extra-terrestrial influence, but who the hell knows?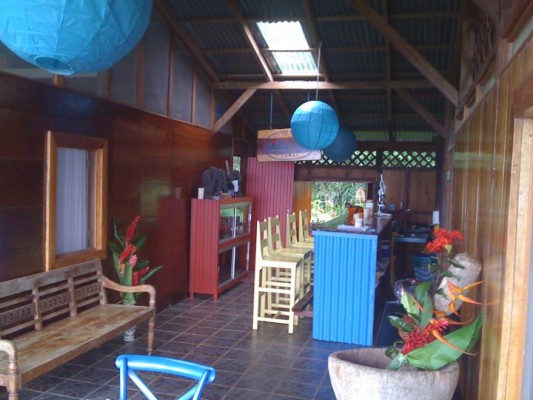 So, one night my son, Charlie and I were sitting on the deck with some guests and this god-awful stench wafts through the lodge, almost like a cloud. This stuff was rank, rank, rank. It settled in the open-air bar and dining area where we were sitting. It smelled like a combination of BO x 1000, horse sweat, and rotting meat.  We're just looking at each with this goofy WTF look and trying to not react in front of the guests. The next thing sounded like someone walking on the metal roof. We went outside—no one on the roof. We tried to remain kind of nonchalant about this. The guests had two rooms in the main lodge. They went to their rooms. The walls were really nothing more than mahogany planks.  The windows were open shutters with screens, and screens covered the upper sections of the walls also.  I took a little stroll outside with my dog and a machete before going to my cabin. 10 minutes later my son and one of the guests ran into my cabin pretty much scared shitless. Three orbs of flickering light had come through the open-air kitchen window, through the kitchen, through the bar, and across the deck, then moved slowly in front of the room windows.  A few shots of rum later, we had them calmed down and back to their rooms.
When the smelly cloud came through, my first thought was a big kitty, maybe feeding on carrion.  We had those on the mountain.  My Ridgeback, Colt didn't react like he did with kitties.
The next day, I tried to call my friend Woody, who had owned that property for 37 years (and the Nauyaka Falls as well).  He was in Florida at his fish camp in the Everglades at the time.  I couldn't get him, so I called his son, Will who spent a good part of his childhood on the property. I told him about the smell and the orbs. He said, "Yeah, you'll get that there. Were they on the roof?" He said he would track his dad down and have him call me.
An hour later, the phone rings and it's Woody.  In his inimitable Louisiana drawl, he said,
"Oh hell, son, what the hell do you expect?  You're sittin' on a fuckin' burial mound.  They must like ya or they wouldn't be showing off. Don't sweat it. Just don't tell the guests.  One of them will write about it and open a whole can of worms and there goes your business."
So I hang up and give my head a scratch, shrugged, and got on with my day. Later in the day, I sat with a couple of guys who worked for me, Marvin, and Carlos. They spoke no English and my Spanish sucks but we got by.  Their family sold the land to Woody years before. They were two of the ten kids born in the farmhouse.  They just pointed at me and laughed and said, "Si."
They took me to the front of the property next to the stables and my cabin and showed me a long rock—about 6 feet long and 3 feet high under the huge Guanacaste tree.
It was a petroglyph many hundreds of years old—possibly a thousand years old. It was a map of Dominicalito Beach, which the Lodge overlooks with little guys with spears and stuff.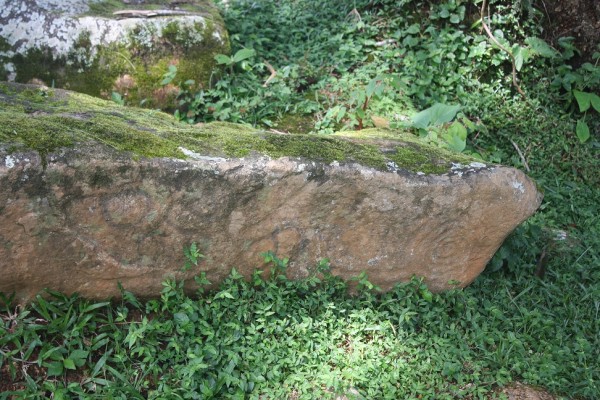 A few months later, I was all comfy in my bed, in my cabin.  My shutters were wide open (no screens).  Here comes that god-awful stench again. I'm thinking—shit here we go again.  At least it wasn't in the lodge or the other cabins to freak out the guests. Colt sort of did a low growl and in a few minutes, it dissipated. I went back to sleep. I woke at sunrise and looked out of the yard to the Lodge. The stone and grass walkway was lined with jagged broken bottles, equally and perfectly spaced.  Go figure.
The point being—just because we can't explain it doesn't mean it's not there. It wasn't that long ago that we couldn't understand lightning.
Happy Halloween!
Later.
Bert