A Trip Through the Lone Star State
My recent trip to my friend Connie's ranch in Blanco, Texas was quite the experience. The Hill Country Texans are a breed unto themselves. Painfully polite, hospitable, simple, and yet complex. They either like you or they don't. Period.
Connie's great grandfather Wiggy passed away in the '60's. This area was the stomping grounds of Lyndon Baines Johnson. He and Lady Bird showed up at the funeral along with their Secret Service entourage. Great-grandmother Mimi snubbed them and politely suggested that they leave–basically for her disapproval of his being a shyster and her distaste for his politics.
I had heard this story many years ago, and I thought Connie might have been full of shit until on this last trip she pulled out the yellowed guest book with their signatures. This is something that has been happening for over 30 years. Every time I want to yell BULLSHIT!!, she documents her claims as fact. Dammit.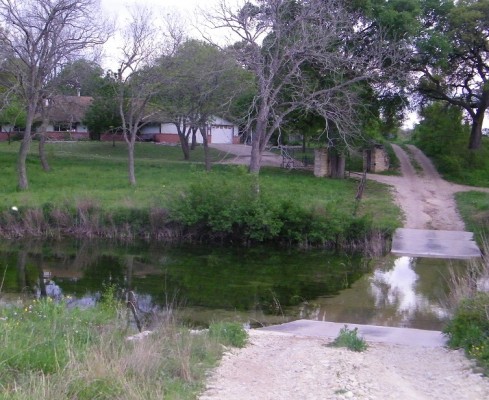 The local undertaker (not funeral director), Butch, wears jeans, cowboy boots, and a belt buckle with a crisscrossed shovel and spade. You can see him, as well as the other old timers at 7:00 AM at the bowling alley in Blanco for the freshly made doughnuts. If you show up at 8:00, you're screwed because the doughnuts are history. All gone Darlin'.
So, I was picked up the airport in San Antonio by Connie's brother-in-law, Steve. He's a sweetheart of a guy, and somehow I was peripherally involved with the joining of the families there about 20 years ago.
If I think about it, too much I'll get a headache. We're doing the 40-minute drive to the ranch and shooting the breeze, hauling ass, and I see a sign that says: CONSTRUCTION AREA. REDUCE SPEED TO 60 MPH. I had offered to just grab an airport limo, but Connie said, "Darlin', you're in Texas. We don't need airport limos." Gotta love Texas.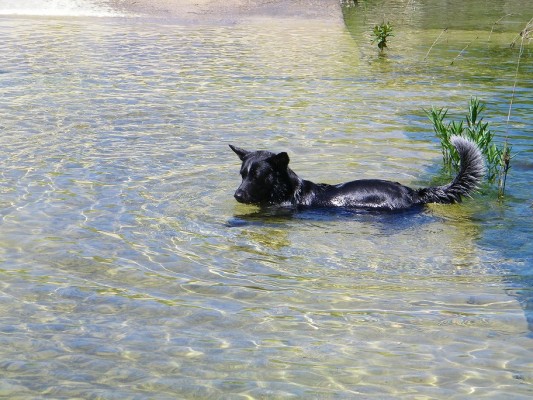 I had an early flight. Had to get up at 3:00 in the friggin' morning. By the time we got to the ranch at about 11:00 I was feeling like 8 miles of bad road. We drive through the gates and over the river crossing and sucked down a couple of beers apiece. I let the 2 Australian Cattle Dogs, Aussie and Tazzy out of the kennel. Now this was my first time meeting Tazzy. She smiles. I didn't know this, and it looks remarkably like a snarl and she's about to attack. They both said hello, I kept my balls, and all seemed well. Then one of them spotted something, and they both bolted into tall grass in the pasture bordering the ranch house and this huge—I'm talking like a 20 pound—jack rabbit is jumping 10 or 12 feet in the air to get away from the dogs. Texas rocks. I was going to take a nap, but I opted for margaritas instead while I waited for Connie-Bob to get home.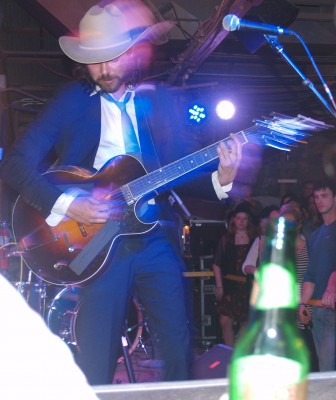 When she arrived home from work, a good bottle of red was popped. We seared tuna with a blow torch and topped it with a soy ginger plum glaze. (Thanks, Max in LA for that one.) Two more bottles followed and bullshitting till 2:00 AM. She had to get up at 5:30 and face 135 sixth graders. She was kind of cranky, it was Friday, and I think I was still pickled. Neither of us have quite the stamina we had in our early twenties.
That night, when she got home, she was still a little cranky. I had filet mignon and shrimp ready for dinner and I told her that we were going to the Gruene Dance Hall for a show. This is one of the oldest dance halls in Texas. Built in 1878, this is a great venue. Only 6000 square feet, it allows you to get up close and personal–a great place to see a show. Shakey Graves was playing. Wow. Remember this guy and check out this You Tube video:
Also, recently Ziggy Marley played. I'm bummed that I missed that one. Others who have performed there over the years include Kris Kristofferson, Lyle Lovett, Tish Hinojosa, Robert Earl Keen, Jr., Jerry Jeff Walker, Stevie Ray Vaughan, Jerry Lee Lewis, Don Walser, Chris Isaac, the Austin Lounge Lizards, the Fabulous Thunderbirds, Jimmy LaFave, Kelly Willis, Slaid Cleaves, and Charlie Robison. Check out their website for upcoming events.
After the concert, I went backstage to invite Shakey to a BBQ Saturday at the ranch so I could get an interview. He was a really nice guy, but I think I might have scared him a little, so that didn't happen. I was still a little flustered from locking Connie's keys in her Jeep while it was still running in the parking lot. AAA isn't real speedy in that part of Texas. Almost ran out of gas while we were waiting. Boy, was she pissed. It took a little while to talk her into letting me drive it to begin with. Brand new. The rubber thing around the door wasn't looking too good from the coat hanger. Then, to sleep. Me on the way back to the ranch and Connie when we got back. Almost had to sleep in the barn—the Jeep thing.
In the morning, we were putting together a BBQ with friends and family at the Cemetery Café out in one of the pastures. The Cemetery Café is the place where family and deceased friends' ashes are spread, then, a granite headstone is made. The view is beautiful. It's normally so quiet that a fly buzzing around your head sounds like a bus. The night sky is nuts. No ambient light interfering with the stars. It overlooks the Twin Sisters, two hills that look incredibly like a nice set of boobs. The Twin Sisters Dance Hall still has a dance on the first Saturday night of the month. This has been going on since the 1800's. Families used to travel by wagon for days when it was time for a young-un to find a spouse.
The BBQ was catered by Kelly of Creekside Cookers in nearby Wimberley, and this guy makes the best BBQ I have ever had. No kidding. He wins national and state competitions. He smokes with pecan wood from Connie's pecan orchard. Margaritas were on the menu (of course), and she has a really novel way of serving them. She has an antique ceramic urn of a soldier from the Mexican-American War, complete with sombrero. He pisses margaritas right into your glass. Texas rocks.
Connie's son Cove came home (in honor of my visit) from Texas A & M, where he is a freshman in their engineering program. He is a brilliant kid and a handsome devil too. Very athletic, and a Texas gentleman through and through. He joined us for BBQ and then went back to the ranch house to work on chemistry homework and study for a test. Connie called to ask him to bring us some ice. She had her phone on speaker so I could give him a hard time. He said, "MOM, I'm doing my homework!" So, I rode to get it with our friend Linda. We got back, and the phone rings. It's Cove, and he says there is no milk. Connie says to go next door and milk Grandma's cats. He must have been a bit flummoxed and stressing on the chemistry because his reply was, "MOM, I'm doing my homework!" Right over his head. We got a chuckle out of that one.
Connie has been a stellar mother. My use of language has always been a tad on the colorful side. When he was a little guy, she had issues with his being exposed to bad language. She got tired of warning me, and Cove obviously loved this, so she set up a swear jar. Anyway, the f-bomb cost me $10. Shit was $5, as were asshole and SOB. Connie swears a little too, just not in front of kids or respectable people. She would drop an f-bomb occasionally I would casually walk to the swear jar and extract a ten. She asked me to please tell her I wasn't taking Cove's money. My reply was "You're f-in' right I am." The $10 went back in the jar, and the expletive that followed cost me an extra fiver. Can't win.
Alright let's go back to the BBQ. There were only maybe 14 of us, but it was a pretty funny group. As the sun was going down, we built a bonfire. Wow, the bullshit really started flying then. We started writing stuff on the napkins, and the next morning it was still hilarious. A few of these gems of wisdom and repartee:
Trash Talk at the Cemetery Café
How can I miss you if you won't go away?
Make it or break it!
Mom … is there any milk? No. Go milk grandma's cat.
When I'm drinkin, I'm thinkin! Ren
She's going to have to force feed it.
Are your needs met?
Do you need a cup of anything?
Chain Wreck
You can if you know how.
I love you. I love you real good, right up until I didn't.
Put a foot on the floor and ride it out!
What did we say? I don't remember. Does that happen all the time? Sometimes –       whenever it happens!
The finest minds are assembled on top of the hill.
Don't tell me we're out of tequila!
Well… you said you wanted some.
You can't get good finger prints off a greasy knife.
That's fucking brilliant!
I thought you were doing yoga or connecting with God until I saw you gnawing on that rib!
You want to see if Pam wants to clean that bone off? Pam, my bone needs cleaning.
I only had a big gulp and a half! 
Next morning, we went to Luckenbach, established 1894. Remember the song? The road sign as you get close says POPULATION 3. (It's actually 2. The bartender passed away a few years ago. She is missed.) Mind you, this is late Sunday morning. In the course of 24 hours, temperatures can vary by 50 degrees. It's colder than a prostitute's heart. The town consists of the dance hall, still with hitching posts, the bar, a 20 square foot post office, a few gift shops, bathrooms with some of the best graffiti I have ever seen, outdoor stages, and an open air concrete slab under the oak trees behind the bar. The bar area seats maybe 15, with a pot-bellied stove warming the place. You never know who you will run into there. It's a favorite haunt of nationally-acclaimed country and blues artists. This Sunday, there were three outstanding 'pickers' unplugged and very casually playing and singing some pretty polished stuff. I don't remember their names because I'm a dumbass. In the past, I have seen Ray Wylie Hubbard SP, The Band of Heathens, Jake Owen, Dub Taylor, Reckless Kelly and more. Luckenbach was a favorite haunt of Willie Nelson, Waylon Jennings, and Jerry Jeff Walker. There's a huge longhorn steer tourists can mount up on for pictures with horns about 3 feet long each. I thought the damn thing was going to take my eye out when he walked by me, but I guess he has a pretty good sense of what he can clear.
So, we had a couple of brewskies and headed to Fredricksburg. Why? I have no idea. But we always try to jam as much into a visit as possible. Great little tourist town, settled many years ago by German immigrants, as are a lot of the towns in the area. There are quite a few noteworthy wineries there. The vines are maturing. Both reds and whites are impressive and winning awards and recognition. I think Becker Winery might be my favorite. Featured in Wine Spectator, Food and Wine, and served in the White House, very nice. …
Back to the ranch at 2:00 PM. Our wild-monkey-love-her friend Suzanne was on her way from Corpus Christi. Her husband, Paul gives her shit about her packing habits for overnight trips. She has everything. No kidding. She showed up with champagne, a bushel of Corpus oysters, redfish, jumbo fresh shrimp, sauces, fresh veggies, fruits, and her dog Otto. We had raw oysters, oysters Rockefeller, oyster stew, blackened redfish, and skillet roasted shrimp with fresh herbs. We then laughed for the rest of the night until the wee hours.
The next night, over to the neighboring ranch for dinner. Lem and Melonie had been with us at the BBQ with the kids until the conversation became too colorful. Wonderful people, Lem is a ranch broker and a handsome devil. He flies from ranch to ranch to show properties to potential buyers using his plane, landing on remote ranch roads. Nancy is a classic Texas beauty. I mentioned that I had been working from time to time on ships and she just casually mentioned that she had been a commercial diver for oil rigs for several years. I didn't see that one coming. She is pregnant, and her youngest isn't quite ready for the idea of a new sibling, so he thinks she's having kittens. Lots of them.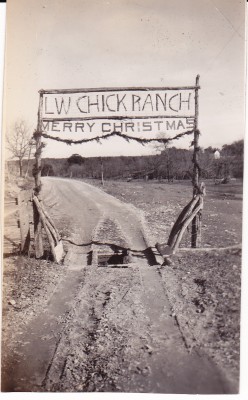 The rest of the visit was relatively uneventful, with a few walks into the guts of the ranch. It's big. You have to carry a gun in case you run into a herd of testy wild hogs. There are also packs of nasty coyotes and the occasional mountain lion. So, we're starting out on a nice peaceful walk, when Connie's cell phone rings. It's the lady who rents the converted chicken coop, next to the barn. She had several pet goats, and the big billy was her baby. She was very attached. Anyway, the goat had died, and the lady had wrapped it in a tarp while she figured out what do with it. For a week. In the sun. She finally decides to call Connie to ask for help. We went there. We lifted the tarp, and it had bloated to twice its size while alive, full of maggots and shit and stunk to high heaven. It was disgusting. We fired up the mule—(called Pepe), a souped-up motorized vehicle about the size of a big golf cart with a flatbed on the back.
Connie figured we'd drag it out to the pasture and let the critters have it. The circle of life thing. It would be stripped down to bones in a few days. She tied a long rope around the horns. We started dragging it slowly and got about halfway to where she decided to leave it. Pepe has a tendency to speed up and slow down for no apparent reason. So we're moving along at a pretty good clip, and suddenly Pepe is really moving. We looked back just in time to see the goat flying through the air. The tarp had come off and damned if the head didn't pop right off. Must have hit a big rock or something–maybe going a little too fast. It was so absurd. We lost it, laughing.
Wednesday, I had an email letting me know that both of my flights had been canceled to get back to Tampa, due to ice and snow. After a total of 6 hours on hold on three different occasions, I finally was able to reach a live person to make new reservations for Friday. I got to the airport in San Antonio, the flight was delayed, but I made it to Dallas in time for the next flight. After boarding, we spent 6 hours on the tarmac, and then back to the gate, where we waited another 4 hours for the flight to officially be canceled. All hotels within a 40-minute radius were full.
All of the passengers were waiting in line, pissed off. There was a guy working his way down the line, named Israel, doing magic and card tricks. I told myself that I should hang with this guy. We shot the bull for a little while and decided to head to a bar. On the way, one of the soles of my shoes just fell off, leaving a paper-thin leather bottom. So, I'm now walking lopsided. We closed the bar and went to the gate to stake out our section of floor to sleep on. I came very close to missing my 7:30 AM flight, but I made it when I heard my name being called over the PA. On to the four-hour layover in Miami, where my other sole came off. At least I was walking level. I must have stepped in some chemicals.
Then off to Tampa and an hour long airport van ride to home.
I was never bored.
Later,
Bert
Photo Credit: Anne Worner via Compfight cc